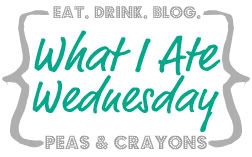 Click the pretty picture and check it out. Ya know ya wanna.
First of all? I am a gigantic hypocrite. Once upon a time I was all "Greek yogurt is so stupid. It's all like whatever and... whatever. Blah-dee-blah-blah-blah."
But then there was this.
Vanilla.
Apparently... Vanilla is a game changer for me. Plain greek yogurt, fruity greek yogurt... Meh. Don't hate it. Don't totally love it.
But vanilla? The most basic-est boring-est flavor ever? Changes everything.
That is a sad fact. I am team vanilla all the way.
I could eat this stuff every single day. But since that little guy up there cost a whole DOLLAR? I limit myself to two a week.
I also steal them from my mom's fridge.
Thanks mom!
And my second recent hypocritical addiction is this.
Remember how I was all "SALAD IS SO BOOORRRIINNGGG! WHO CAN JUST EAT SALAD ALL THE TIME?"
Apparently I can. As long as it has this one particular dressing on it. And the leaves must be crunchy.
The dressing? A copycat Olive Garden italian. It's damn close. It's also damn delicious.
I eat plate after plate of it.
I think I am single-handedly clearing my local grocery store's supply of iceberg salad mix.
And my last new favorite thing?
Pozole. A mexican soup with a red broth, pork and hominy. I dump lots of raw cabbage and radish into mine. Plus oregano and cayenne. And lemon.
My mother in law made this over the weekend.
She also made menudo. And I cut the tripe. Did you know tripe has tiny black hairs in it?
*Shudders*
And to make you forget about what a horrible hypocritical person I am?
Look what I caught my mom's dog doing to WiFi!
Haha. Awkward.