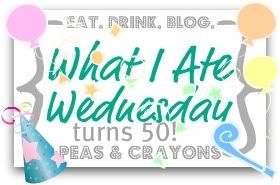 Woohoo! Yeah yeah! Go check out the party!
I'm gonna celebrate by telling you about what I made/ate on a little celebration we had this past weekend. We seriously started off the new year right.
On January 1, 2011 the husband and I moved out of his mom's house and into our own apartment. One of the first things I vowed we would do as "grown ups" with our own place was have my husband's grandparents over for dinner.
Yeah... Except I didn't.
Not in 2011 at least.
BUT on January 1, 2012 I finally made my 2011 resolution come true.
Well sort of. We didn't have dinner, we had lunch.
But it was a great lunch and I think it was worth waiting for!
I decided to turn lunch with my husband's grandparents into a big family affair.
We invited my husband's grandparents, mother, stepdad and two younger brothers. On my side of the family we had my parents, younger brother, aunt and uncle.
That made 12 of us.
What'd I make?
Well I actually remembered to take pictures this time! Aren't you proud?
3 kinds of meat to satisfy everyone's tastes.
A roast beef. Or... what was left of a 4 pounder anyways.
I was really nervous about making the roast beef because I was not at home for 2 hours in the morning and had to let it cook for 4 hours total.
I ended up buying two roasts. (I don't do holidays but oh how I LOVE holiday meat sales!!) One I made the day before to "test" how long it would take. SO GLAD I DID THAT. It was overdone and so for the actual lunch I turned the oven down another 15 degrees and it was PERFECT. Exactly how I wanted it.
We love red meat 'round here.
And for the few wimps among us who don't I also made chicken legs.
Marinated them in beer and then cooked them in the crock pot the day before with honey and ketchup until
almost
done. Slathered them in bbq sauce and then the day of popped them in the oven for 30 minutes. They were deelish.
Made my own bbq sauce too. I love
this recipe
but I sub the red wine vinegar for apple cider vinegar and add sriracha at the end to give it some spice. I really love the Jack Daniel's line of store bought sauces but making your own is cheaper if you've already got molasses on hand and it's really easy.
Lastly pulled pork.
I had wanted to do ribs. I went to my local mexican store and bought what was labelled as pork ribs for $1 a pound. When I got them home I realized they were not ribs in the traditional sense. There was a loooonngggg flap of meat with absolutely no bone but then down at the end there was one long bone that was an L shape. So pulled pork was born.
I rubbed them with cinnamon, smoked paprika, brown sugar, chili powder, onion flakes and garlic salt and wrapped in foil then piled them in the crock pot for exactly 8 hours the day before. So moist. Totally fell out off the bone. Tasted exactly like rib meat... just without the bones.
I separated the meat from the few pieces of fat that hadn't melted down and the couple pieces of bone and then the next day warmed in the microwave with my homemade sauce and a touch of Jack Daniel's and then set it in the crock pot for 30 minutes while everything else finished cooking.
The pork got rave reviews.
The obligatory starchy sides.
Mashed potatoes. Or more fittingly, duchess potatoes, casserole style. I used
this recipe
and they were so ridiculously delicious. Ridiculously bad for you, but also delicious. They were pretty much gone, as you can tell.
Unfortunately I COMPLETELY forgot about them and they didn't go in the oven until way late in the game. They weren't as browned on top as I would have liked but thankfully they heated through pretty quickly.
I need an app on my iphone that will play audio reminders at certain times. I always schedule out at what time to do what things but then I get so busy doing things I don't have a second to check my schedule. If my phone could play a previously recorded sound bite of me saying "Put the potatoes in the oven" at exactly 12:30 pm that'd be awesome.
There was also gravy.
This is a country gravy made with bacon fat and milk and flour and a bunch of pepper. There was also a roast beef gravy I made from the first roast's juices.
And chili.
This chili was phenomenal thanks to a few things.
First of all, beer. I love beer in chili. I used a dark pumpkin ale my husband had in the fridge.
Second of all, I had big plans to roast my own cumin seed and do all this other stuff to season the chili but then something amazing happened.
I was at the store buying some ingredients for the lunch and I randomly happened upon
Chili-O seasoning
. I fell in love with Chili-O when my mom started buying it and using it to make chili while I was a teenager. Then when I got married it disappeared from every store in my area. I ranted and raved and went hunting at 5 different stores for this stuff one day during our first month of marriage. I have been looking for it for TWO YEARS.
And then it was there. Just sitting there all beautiful and easy and perfectly spiced. So I ecstatically called my mother (who also loves Chili-O) and threw 20 packets for us to share into my cart as everyone in aisle 10 stared at me like I was insane.
Lastly and most importantly... the meat? I used chicken chorizo sausage, some of the medium-well tester roast beef and pieces of pork roast in this chili.
The pork roast pieces were a very happy accident. I made them a few days before to top nachos and decided to chop up the meat and then melt down some of it's own fat to fry it in before simmering it in the crock pot with spices.
It got all smokey and delicious and awesome. It's probably horribly unhealthy but it was so dang good and the smokiness of the leftover pork plus the beer gave the chili an amazing depth of flavor.
Possibly one of the best things I have ever made, this chili.
Also, mac and cheese.
It got all clumpy after it set out while we ate but it was originally nice and creamy. I used truffle cheese from trader joe's, sharp cheddar, and a smoked gouda to make the cheese sauce. 'Twas delicious. I love truffle cheese.
And for balance there were a few veggie sides as well.
Corn on the cob. (4 for a dollar at the mexican store!)
Mezgaldi onions.
Recipe here
. These were awesome. They tasted like the inside of an onion ring.
Fresh green beans with onion, garlic and bacon.
Caramelized carrots
. Loved the cooking method, didn't love the spices.
And salad.
Specifically? Caesar salad. Dressing recipe
here
. I have tried making Caesar dressing from coddled eggs and it tastes exactly the same to me either way. Stick with the mayo, it's easier. I always sub low fat mayonnaise for the regular and it still tastes delicious. I also use anchovy paste in place of the anchovies. The only other thing in the salad was homemade croutons and parmesan.
My husband's grandpa LOVES this salad. I think from now on when they come to visit (they live about an hour away) I'm going to send him home with a bag of salad mix, homemade croutons, parmesan cheese and a big fat tupperware of this dressing.
And there was fruit too.
Drunkin' apples
in the crock pot.
And baked pineapple. I got a whole pineapple for a dollar at the mexican store too. Love that place, dang. I rubbed it with a little cinnamon and brown sugar before heating.
There was also bread.
Garlic cheddar biscuits
.
And
corn bread
. The moisture and texture of this recipe was just awesome. I will use less sugar next time though.
There was also, of course, a dessert table.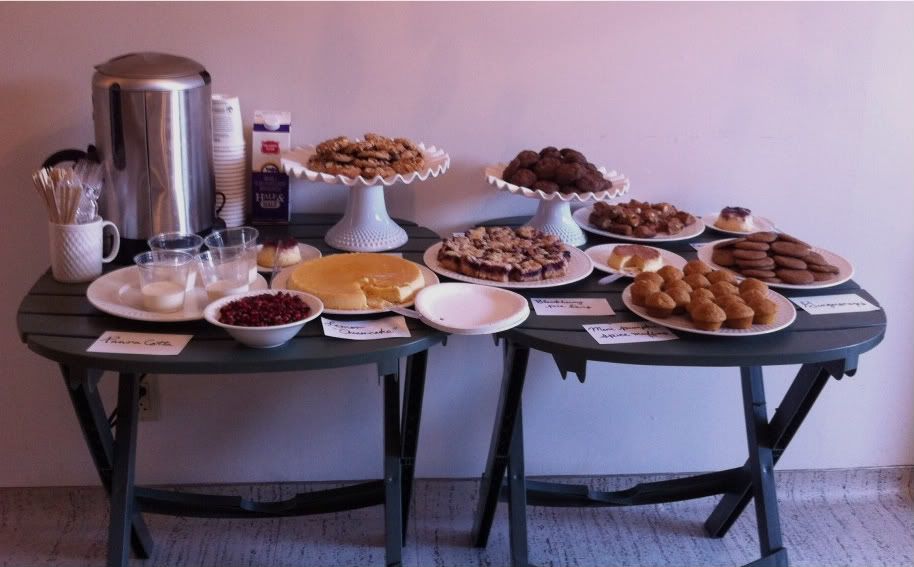 Let me break it down for you.
Peanut butter pretzel chocolate chip cookies
. Sounds intense? It is. In a good way.
Chewy gingersnap cookies
. These were perfect. I opted not to roll the dough in sugar because I don't feel like it adds anything to them.
Double chocolate chip cookies.
Mini pumpkin muffins. I actually made these "
donut holes
" but didn't brush them with the butter/sugar/cinnamon combination. I'm sure that would have been extra delicious but I was making them ahead of time so I left them as muffins.
I didn't plan to make these originally but I had pumpkin in my fridge that needed to be used up and the recipe jumped out at me on pinterest.
So glad it did. Best pumpkiny thing I've tasted this season.
Blackberry pie bars
. Another thing I fell in love with on pinterest.
Blondies
that I added chopped cashews and swirled caramel sauce into. I love blondies and that recipe is perfect.
This is flan. Puerto rican flan. My mother in law recently taught me how to make it. Traditionally there is caramel on top, as pictured. It's one of the best things I've ever tasted. I am not allowed to share the recipe, but there are similar ones online everywhere.
The "flan" itself tastes sort of like a sweeter version of cheesecake. So I thought "What the heck? Why not try it with lemon instead of caramel?" Glad I did, cuz it was great.
I also tried it with some blackberry jam. Also good.
The traditional caramel is still my favorite.
And last, but greatest of all, panna cotta. My husband's 13 year old brother text me the night before lunch and asked me to make creme brulee. I'm kind of famous for my creme brulee (actually America's Test Kitchen's creme brulee, shhhh) but my torch is broken. I asked him why he wanted it, figuring he just wanted to be able to play with the torch and melt the sugar.
But he gave me a really sweet complement instead. "Yesterday I went out to eat and ordered creme brulee. It was HORRIBLE. I need a good one to get that disgusting taste out of my mouth so I want you to make it."
So even though it was 11 o clock at night and I was pretty dang tired, I was melted. He's a typical younger brother and doesn't say many nice things, so I offered to make panna cotta. I told him I think the taste is very similar to creme brulee, just minus the hardened sugar. He said it sounded good so it found it's way onto the table as well.
He loved it. And so did my dad. And my dad doesn't love ANYTHING. So that was kind of awesome. Now I have a new go-to dessert.
At least until I buy another torch.
And that was it! That's everything I made for our great big family lunch!
I'm already planning another one in a month or two.
Tamales, enchiladas, carnitas, carne asada, homemade beans, homemade rice, tres leches and flan will be featured. And possibly homemade corn tortillas.
Those people in aisle 10 were totally right. I AM insane.