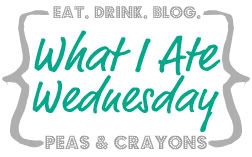 What I Ate Wednesday ya'll!
Head over
and check out the party. Woot woot!
----------------
Okay so yesterday was day 1 of my big ol' breakfast experiment.
I kicked off the day with some oat bran. I actually ate peaches and cream oat bran but it was 5:30 am, the picture didn't turn out right, yada yada yada... so I'm showing you this hazelnut cocoa oatbran instead.
This nutty, chocolatey version actually took my oatbran virginity.
I have not gone back to oatmeal since. o.O Please don't hate me oatmeal. I think we just need to see other people/oat varieties for awhile.
Awkward.
Then, because this is the GIANT breakfast challenge, I also had one of these guys.
Kale banana nut smoothie. Lemme just say? Yum. I got the idea from
here
, but I changed a few things. I didn't use flax seed cuz... I forgot. Also, the first time I made the smoothie I used whole cashews and ground them up... but the smoothie was mealy. No bueno.
So this time I used nut butter. A peanut, almond, cashew blend from Target. I HIGHLY recommend cashew with this... And next time I will splurge and buy full cashew butter just for this shake.
I also added in a bit of greek yogurt for protein and a splash or two of almond milk, but that's about it.
This is, far and away, the best smoothie I have ever tasted. Ever. Seriously.
I usually don't list calorie counts when I link up to WIAW but since I'm doing a special challenge, I'll tell you my breakfast totals. 460 without my coffee, 510 with the coffee.
WhaaaAaattt?! Yeah. That is almost 3x what I normally eat in the morning and I definitely felt "Kingly" stuffing my face in the name of science.
Now for my princely lunch.
After work I headed out to Trader Joe's to grab a few essentials. Once I got home (at 12:30 pm) I was fairly hungry.
Not starved, but pretty hungry.
So I quickly threw these guys into a pan with some soy sauce, rooster sauce and hoisin.
Bean sprouts! Yum! There was about double this but... yeah... as I said. I was hungry.
While I ate those I made this salad.
Red leaf lettuce, baby carrots, cucumber, roasted cauliflower, low-fat ranch dressing and onion straws.
Dessert? Yes please!
The only new-to-me thing I got from Trader Joe's.
This is definitely going to be a staple in my freezer from now on. Only 100 calories per half cup serving and it's YUMMY. It's not the same taste as "original tart" froyo or the froyo I make myself... but I really like it. The quart is only $1 more than it costs to make froyo at home and it has less calories.
So... no brainer. Why do the work when you have the fabulous Trader Joe people to do it for you? ;)
After I ate that I was still craving yogurt. Which is odd cuz... I don't really like yogurt... as I've adamantly stated. But whatever. I just went with it.
Greek yogurt + blackberry preserves. I sorta made myself eat this. It sounded better in theory than it actually tasted. I think I like yogurt... but I like it really, really cold. Like... freezing cold.
So what was my tiny pauper dinner?
Salmon with salsa on a bed of black beans. It was yummy.
My favorite thing I ate all day though?
Definitely this.
A giant movie-watching snack plate! A few roasted sweet potato rounds, roasted radishes seasoned with Trader Joe's 21 seasoning salute, some cheddar cheese, broken up crackers, cucumber slices with pepper, smoked sea salt and feta cheese, sliced strawberry, kale chips and roasted snap peas.
I dipped the kale chips in some ketchup. Omgosh. Best thing ever. Thank you
Microcosm of Life
!
And I dipped the snappies into rooster sauce/peanut dressing combo.
I will probably start making these every night before bed. I just loved the huge variety of yummy vegetables and can't wait to start thinking up other good combinations. :)
Yesterday was a GREAT day!
I thought I was going to be STARVING because I ate so many calories early in the day but it was exactly the opposite! I really did feel fuller and satisfied all day, even with less food.
I still ate the same amount of calories I usually do but somehow eating them in reverse order made me feel more... satisfied.
So I think I *maybe* might be a big breakfast convert! Woohoo! I've joined the darkside! And there's oatbran and kale banana nut smoothies for everyone!